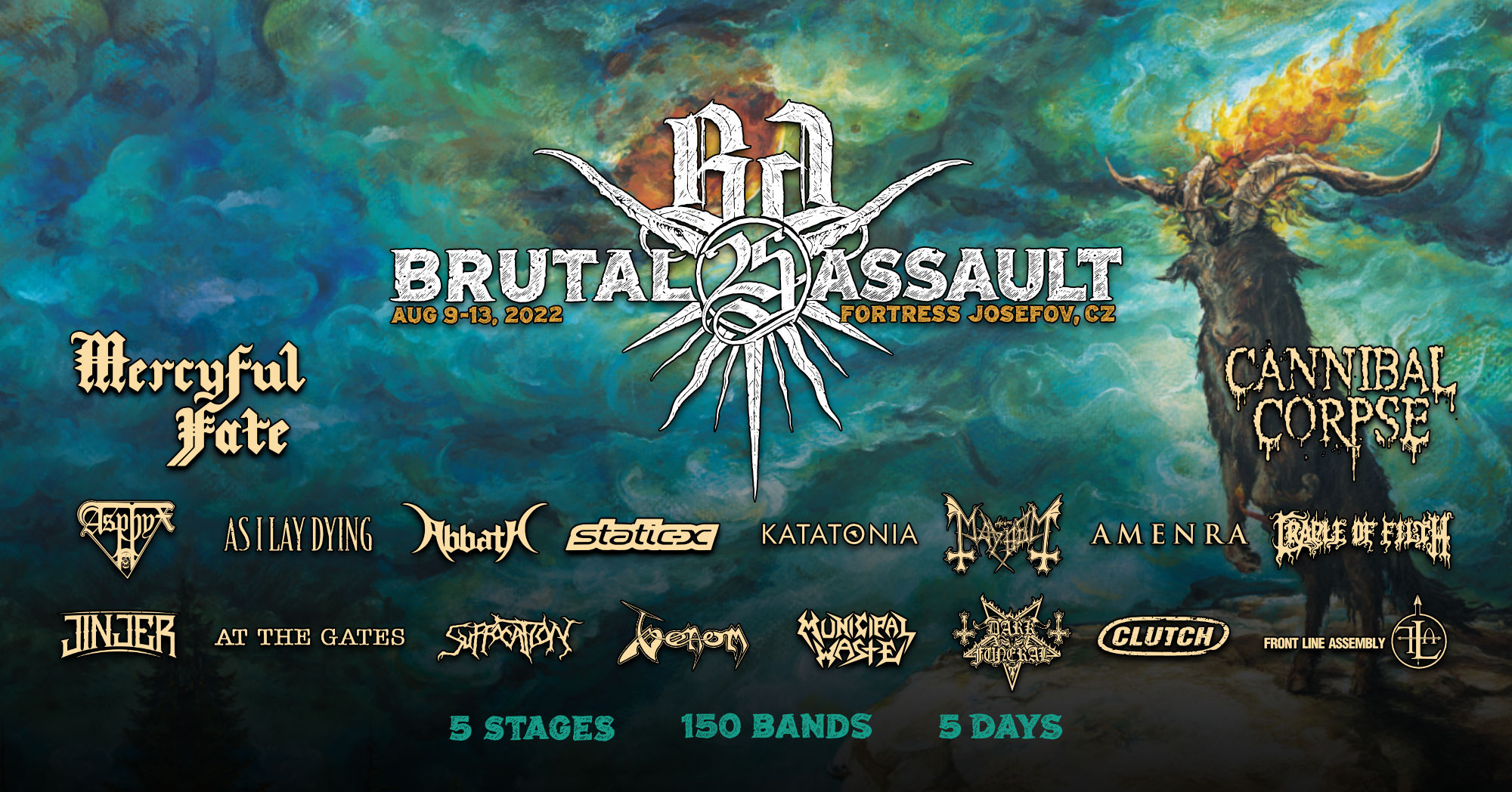 Brutal Assault
Festival Brutal Assault proběhne 9. až 13. srpna 2022 a bude dokonce o den delší než obvykle. Nabídne pět pódií, hororové kino a umělecké výstavy.
Brutal Assaultu patří mezi akce, které musely být přesunuty kvůli koronavirové pandemii. Rozhodně pozitivní zprávou pro fanoušky ale je, že v roce 2022 si festival užijí o to víc, o co bude delší. Tradiční úterní warm-up párty se totiž oficiálně stává festivalovým dnem! Další dobrou zprávou je, že lístky zakoupené na rok 2020, resp. 2021, zůstávají v platnosti.
Budou to velkolepé oslavy 25 let festivalu. Můžeme se těšit mj. na Abbath, The Agonist, As I Lay Dying, Butcher Babies, Cradle Of Filth, Dark Funeral, Fleshgod Apocalypse, Front Line Assembly, Katatonia, Life Of Agony, Mayhem, Paradise Lost, Static-X, Strigoi nebo Venom.
Za svou existenci se Brutal Assault vypracoval na pozici jednoho z nejznámějších žánrových festivalů, což potvrzuje i návštěvnost – v roce 2019 to bylo 23 tisíc lidí. Začínal v roce 1996 v Blansku jako menší festival, na kterém hrály převážně české a slovenské kapely. Několikrát měnil místo konání (Svitavy, Hvozd u Konice, Svojšice). Od roku 2007 se koná v Josefově, kde zdomácněl.
Nabízí pestrou škálu kapel hrajících extrémní metal, ale také punk rock, experimentální rock nebo elektro, od již klasických kapel po to nejlepší z undergroundu.