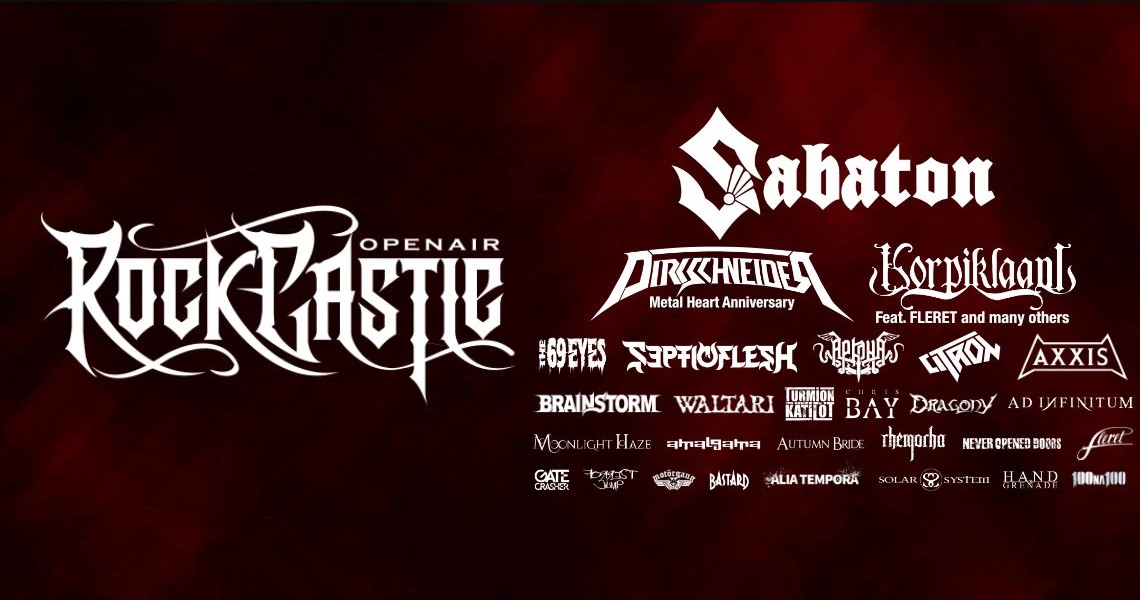 Rock Castle 2021
Warning
: Undefined array key 3 in
/www/doc/www.free-ze.eu/www/wp-content/plugins/tiled-gallery-carousel-without-jetpack/tiled-gallery.php
on line
554
Warning
: Attempt to read property "ratio" on null in
/www/doc/www.free-ze.eu/www/wp-content/plugins/tiled-gallery-carousel-without-jetpack/tiled-gallery.php
on line
554
Koncem léta, od 19. do 21. srpna 2021, v Moravském Krumlově proběhne zbrusu nový festival v režii agentury Pragokoncert. Rock Castle láká na takové hvězdy, jako jsou Sabaton, Dirkschneider nebo Korpiklaani.
Mezi potvrzené kapely dále patří: The 69 Eyes (Fin), Septicflesh (Gre), Axxis (Ger), Brainstorm (Ger), Waltari (Fin), Dragony (Aut), Chris Bay (Ger), Turmion Kätilöt (Fin), Ad Infinitum (Swi), Moonlight Haze (Ita), Autumn Bride (Aut), Fleret (CZ), Gate Crasher (CZ), Forrest Jump (CZ), Motörgang (CZ), Bastard (CZ), Alia Tempora (CZ), Solar Systém (CZ), Hand Grenade (CZ), 100 na 100 (CZ).
První den, čtvrtek 19. srpna, se ponese v duchu "Vodka and Beer opening party" z dílny slavné finské folkové party Korpiklaani. Korpíci připravili pro tento večer speciální show a pozvali i hosty. České fanoušky určitě potěší, že mezi hosty je i česká kapela Fleret. Flereti už jednou společně s Korpiklaani na pódiu byli – na festivalu Masters of Rock ve Vizovicích.
Druhý den, pátek 20. srpna, bude vrcholem festivalu. Večer vystoupí hlavní headliner – švédská kapela Sabaton. Kluci momentálně pracují na nových skladbách. Kdoví, na festivalu se už možná dočkáme nejen osvědčených hitů, ale i nových pecek.
Poslední den Rock Castle, sobota 21. srpna, bude patřit headlinerům z Německa. Zahraje Dirkschneider, který v soupisce nahradil Guano Apes, a AXXIS, kteří nahradili jinou německou partu In Extremo. Guano Apes i In Extremo se rozhodli letos ještě nekoncertovat, ale přislíbili svou účast na dalším ročníku festivalu.
Z důvodu přetrvávajících opatření ze soupisky vypadly kapely z Ruska: Amalgama, Rhemorha a Black Sonic Pearls. Jako náhrada místo nich vystoupí Symfobia, Surma a Carpatia Castle.
Vstupenky můžete zakoupit na stránkách www.mastersofrock.cz či www.rockcastle.cz nebo také v předprodejních sítích Ticketportal, Ticketmaster a Ticketstream.