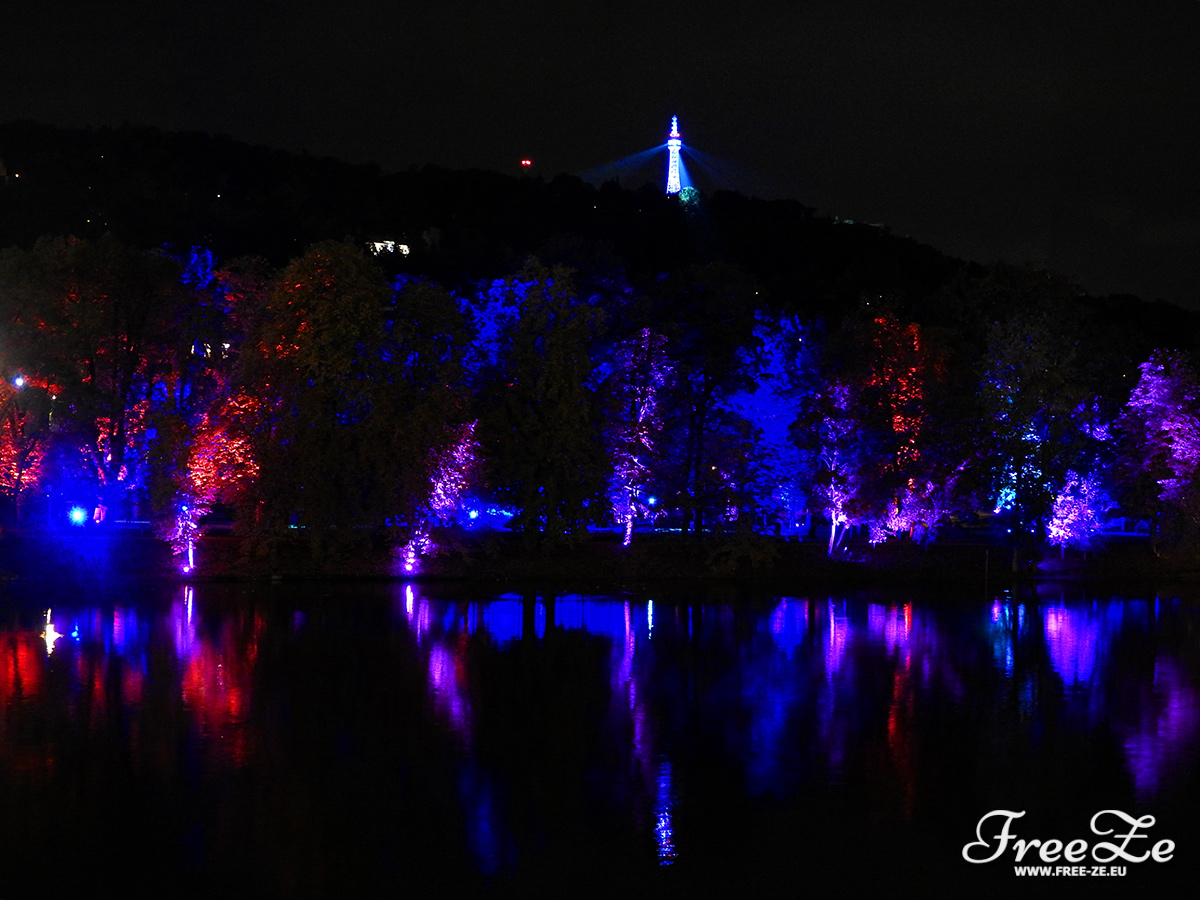 Po Pražském hradě a Petřínu před námi byla třetí a závěrečná část našeho výletu – festival světla Signal Festival

.
Vyrazili jsme směrem z Andělu přes Palackého most, Palackého náměstí a Rašínovo nábřeží k Mánesu. Po cestě byl naprosto luxusní pohled na Pražský hrad! Ten se ostatně naskytl víckrát a stejně tak víckrát byl zvěčněn :-)
Videomapping "Faces" od Intel Real Sense u Mánesu byl docela zajímavý, ale nemůžu říct, že by nás to vysloveně nadchlo.
Podsvícení Petřínské rozhledny ("Medusa" od BelCandor) – to už bylo trochu jiné kafe. Vypadala nádherně! Krásně se vyjímala a byl to vskutku moc pěkný pohled.
Dle fotek mě ale nejvíc zaujala světelná instalace "Magical Garden" od Kari Kola, nacházející se na Střeleckém ostrově, a nezklamala! Naživo to bylo ještě pohádkovější, člověk na to koukal a připadal si jako v pohádkovém lese. Byla to kouzelná podívaná v tom nejlepším smyslu. Tak jsme tam stáli a uneseně pozorovali hru světel… :-)
Poslední instalací, kterou jsme potkali, byla "Citadels: Lightscape" Matthijse Munnika se stroboskopickými efekty a "halucinogenními účinky". Docela psycho. Ani jsme se tam nezdržovali a rovnou zamířili směr vlak. A výlet do Prahy tím skončil… ale do Prahy a na Signal Festival rozhodně zase někdy zamíříme znova :-)